The Jakarta – Bandung High Speed Rail (or Kereta Cepat Jakarta – Bandung in Bahasa Indonesia) is the first high speed railway line in Southeast Asia. The brand new line connects the urban areas of Greater Jakarta and Greater Bandung, both of which are Indonesia's 1st and 3rd biggest urban areas with populations of approximately 34 million and 11 million people respectively.
The high speed line promises to drastically reduce travel times between both cities with operational speeds of up to 350km/h, a quantum leap in experience compared to existing services on the legacy Javanese mainline railway network. I had the opportunity to try the brand new line in its 2nd week of commercial operations, and here is my experience.
Jakarta-Bandung HSR route and travel times
The HSR route doesn't run from city centre to city centre. Instead, services depart from brand new stations built specifically for the HSR – beginning at the Halim HSR station in East Jakarta, calling at Karawang (still Under Construction), Padalarang, and finally terminating at Tegalluar in the southeastern outskirts of Bandung.
Notice that none of the stations are named "Bandung". That's because the city is served by the Padalarang HSR station west of the city proper. Here, passengers have to connect to a dedicated feeder train service running on the existing mainline from the older Padalarang railway station to the actual Bandung railway station.
The travel time is still an improvement – 30 minutes from Halim to Padalarang on the HSR, plus 20 minutes on the feeder train from Padalarang to Bandung. In total, you'll spend around 50 minutes travelling via HSR as compared to at least 2 hours and 45 minutes on the legacy Argo Parahyangan direct from Jakarta Gambir to Bandung.
Buying my Jakarta-Bandung HSR tickets
Tickets for the Jakarta-Bandung HSR are purchased on a dedicated ticketing website, with tickets themselves being released for sale in what appears to be blocks of 7 days. If you try to book a ticket beyond the available block of 7 days, the system either shows you a countdown timer until the tickets are released, or it simply displays no scheduled services for the day in question.
I must say this is a bit of an odd system, but these are early days for a very new system in a country with no previous experience operating a HSR. I hope in the future tickets are bookable further in advance to allow for better trip planning. That being said, I had no issues signing up for an account on the website and paying for my tickets with my Malaysian credit card. The booking confirmation was sent to my email and I could also access my tickets on the WHOOSH app.
At the time of writing, there appears to be 7 scheduled services in each direction. I opted for the 10:20am departure from Halim to avoid having to deal with the city's morning rush hour and to give myself time to find my way to Halim HSR station.
Ticket costs
There are 3 cabin classes available onboard, and currently only the base tier Premium Economy Class is open for sale at Rp 300,000 (approx. USD 19.10, MYR 90.34, EUR 18.17, GBP 15.76) one-way. The price is noticeably higher than a base Executive Class fare onboard the existing Argo Parahyangan service between Jakarta and Bandung, but is actually quite affordable for a high speed service.
A promotional run was announced the day before I bought my ticket with a half price discount for all single tickets at Rp 150,000, giving the HSR tremendous value for money. For contrast, a single ticket on the (not High Speed) ETS Platinum from Kuala Lumpur to Butterworth (Penang) costs MYR 80.00, and a high speed ICE ticket between Frankfurt (am Main) and Cologne if booked a week in advance can range from EUR 17.90 to EUR 43.90 thanks to dynamic pricing.
Amended: An earlier version of this post described HSR fares as being subsidised by the Indonesian Government. It appears I was mistaken – Indonesian President Joko Widodo clarified in September 2023 that the fares would not be subsidised, so it appears that the Rp 300,000 base fare is entirely commercially determined.
What's with the name?
Yes, the official brand for the Jakarta-Bandung HSR service is the very creative "WHOOSH". It is meant to be an acronym made up by the slogans: Waktu Hemat, Operasi Optimal, Sistem Hebat. The line itself is operated by a company called PT Kereta Cepat Indonesia China (KCIC), which translates as "Indonesia-China High Speed Railways Ltd" – no brownie points for guessing who the project leader is here.
Departure from Jakarta (Halim) HSR station
The HSR line begins at Halim station in East Jakarta, named after the nearby Halim Perdanakusuma Airport. The HSR station is connected to Halim LRT station on the Bekasi branch of the newly opened Jabodebek LRT via an elevated covered walkway to the departure concourse, making for a physically convenient connection. If you come by car instead, you'll be dropped off at the ground floor driveway.
The space here hosts the requisite manned ticket counters and ticketing machines as well. Staff were on hand and proactively helped passengers who were visibly confused or facing issues with the ticketing machines.
There were also a few pop up retail stalls and promotional materials placed for the more social media savvy. Feel free to get your pictures taken here.
If you're planning to get to Halim with the Jabodebek LRT, you should know that the LRT service is quite slow, and the interchange to the KRL and Jakarta MRT at the Dukuh Atas-Sudirman-BNI City group of stations is one of the most mind boggling processes I've ever seen. I recommend using Grab or the Bluebird Taxis as more convenient alternatives if traffic permits. If you really want to connect via the Jabodebek LRT, factor in extra time to account for the interchange and slow speeds.
Ticket collection at Halim HSR station
All WHOOSH tickets are assigned a unique QR code, which can be obtained either on the WHOOSH app, or via a link on the booking confirmation e-mail. Tickets can also be printed at the ticket machines provided at the stations. These are very easy to use, but remember – Each passenger's ticket is tied to the ID number that was keyed in during the ticket purchase, and the ID number has to be typed into the machine to retrieve the ticket.
Note: You can also print your return tickets at Halim and not have to worry about them later.
I faced a problem right after my online ticket booking where the link to the QR code included in my email simply didn't work – the page failed to load my QR code. This eventually fixed itself the day before my train ride, but I figured it would be better to have a printed backup that conveniently also doubled as a souvenir.
Halim HSR station departure concourse
Heading up the escalators from the ground level brings passengers to the actual departure concourse. The entire space is split into 2 waiting areas – one before the security check, and one after. That's right, your bags are x-rayed before your WHOOSH trip.
Just outside the waiting area is a corridor full of yet another row of pop up stalls, this time selling a wider variety of food and drinks. The northern end of this corridor is where you'll find the link to the Halim LRT station. There is also a small exhibit on the history of Indonesian railways for those who'd like a quick primer on how far they've come.
The waiting area after the security check featured a display of framed photographs taken of the line during its construction. There is also a small merchandise store, but this was selling pretty generic Whoosh branded items. Not worth it, in my opinion.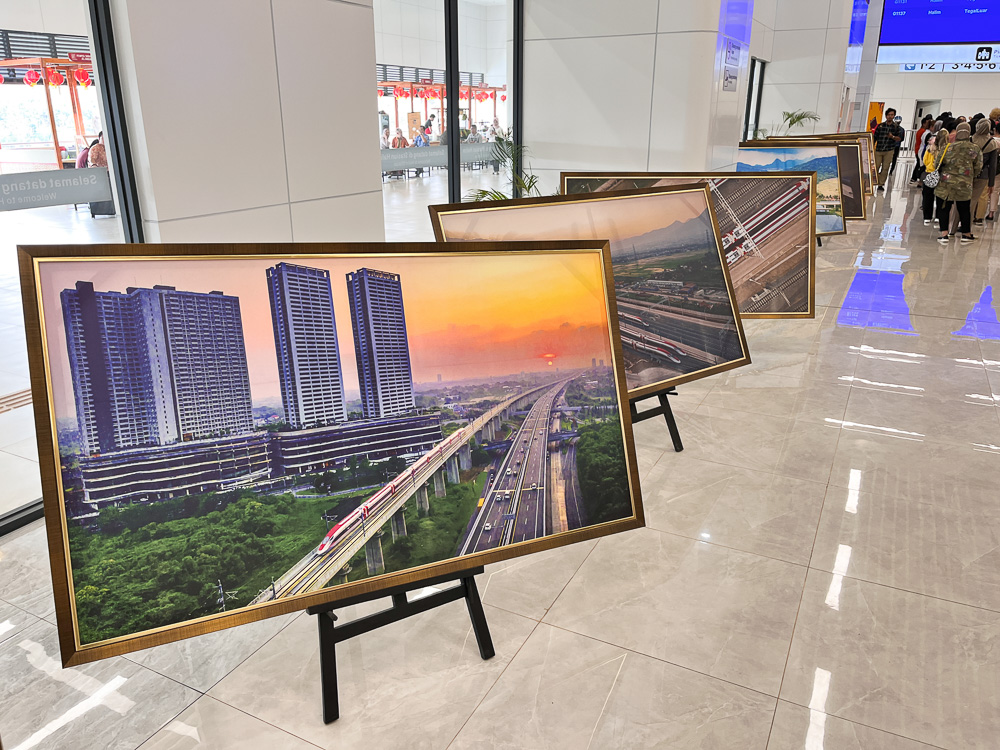 I have to say that the passenger flow logic here seems to be leaning towards treating HSR services akin to a scheduled flight, and I'm guessing that each scheduled service will be boarded one after another. If that's the case, I'm not entirely sure if the current layout is conducive to higher levels of passenger flow.
Boarding the WHOOSH
Boarding was called 30 minutes before the scheduled departure time, but the queues for the station's 2 sets of ticket gates started moving instantly, as large queues had been steadily forming by the ticket gates over the past 15 minutes or so.
WHOOSH's ticket gates can read QR codes, but are also fully capable of reading the tickets like a magnetic stripe ticket. An issue with the QR code system on the day prompted staff to ask that passengers insert their tickets into the gates for validation, just like old times.
Halim station is built with 6 platforms, but the WHOOSH currently only makes use of Platforms 1 and 2. The problem is that passengers clearing the ticket barriers are funneled immediately into a regular sized distribution corridor connected to both platforms. This resulted in a bottleneck queue of people heading up to Platform 2 via the escalators. I didn't want to wait, so I took the stairs instead.
Our brand new train was waiting on Platform 2 in its sleek silver-red livery. The train, being the first Indonesian and ASEAN high speed train, proved to be a very popular backdrop for people taking pictures as mementos.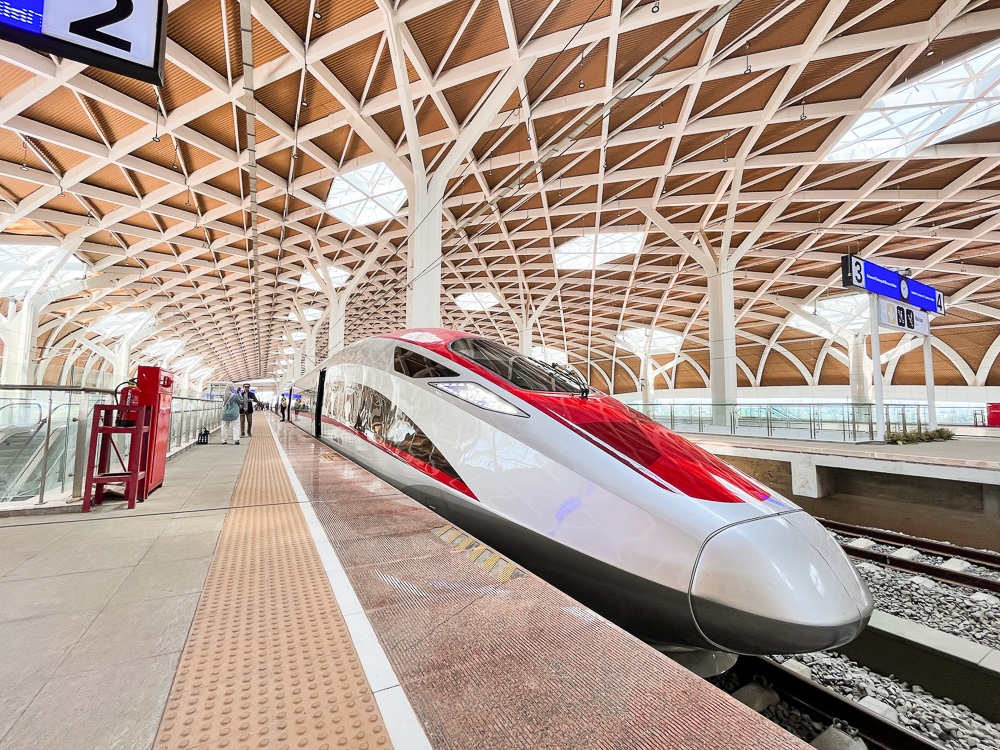 It took all of the 30 minutes for boarding to be completed, and station staff had to verbally remind passengers still on the platform to board the train at once. With all passengers satisfied with their haul of photos, the doors then closed for an on time departure.
Onboard Cabin & Amenities
WHOOSH's KCIC400AF trainsets are configured with 3 travel classes onboard – the base Premium Economy, Business Class, and First Class. At the time of writing, only the Premium Economy seats were opened for public purchase, while Business and First Class were only open to group reservation.
There is remarkably little information about the travel classes on the ticketing website, a bit odd since you'd think KCIC would want to amp up marketing for their fancy new service.
WHOOSH Premium Economy Class seats
The Premium Economy Class cabins are generally configured in a 3-2 layout, while some cars have a 2-3 layout instead. Car 8 hosts the First Class cabin just behind the train cab, but also features a relatively private mini Premium Economy Class cabin.
The seats themselves have a generous 50 cm (19.6 inches) of legroom, a slightly adjustable headrest, and a generous recline. No footrests are installed, but the end-to-end journey is short enough to make footrests unnecessary.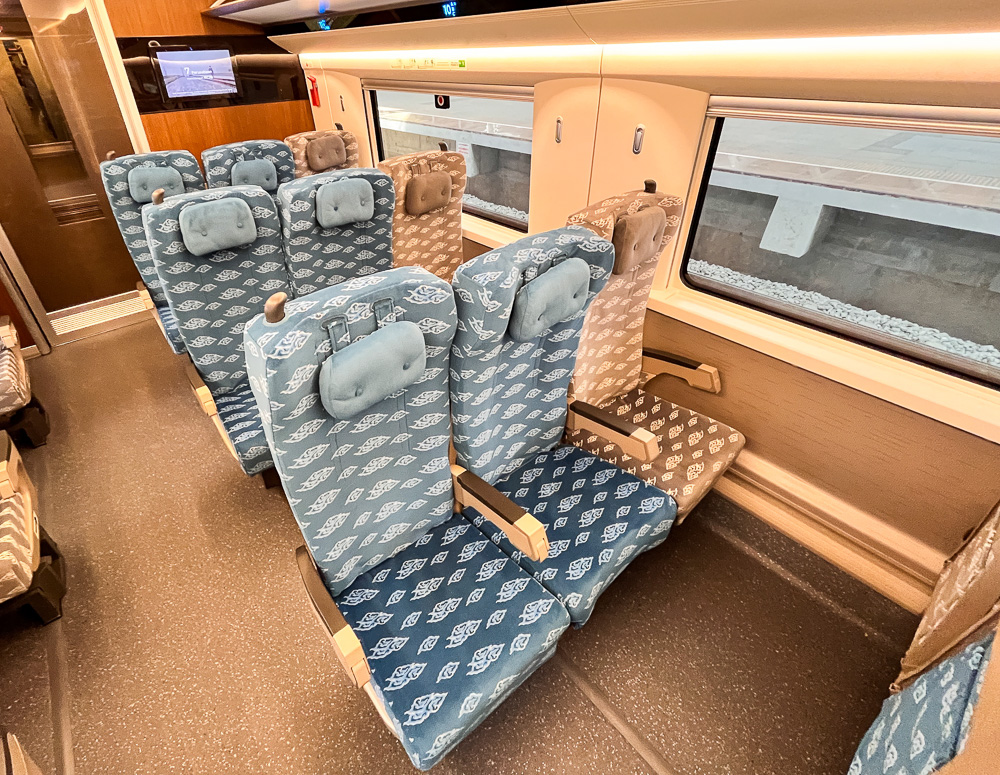 On the amenities side, there are Type F power plugs and USB-A ports for charging. Note that the charging ports are shared by every 2 seats, so in the 3-2 and 2-3 cabin layouts the set of 3 seats will share 2 sets of ports, whereas the set of 2 seats share only 1 set. Luggage racks are also installed down the length of the cabin above the seats, and bigger ones are available in the vestibule area.
The seat back tables are quite solid and steady, but its size is slightly smaller than a typical airplane tray table.
WHOOSH Cabin Furnishings
The WHOOSH trains are designed and produced by Chinese rolling stock company CRRC, and the trains themselves are essentially exported versions of the CR400AF Fu Xing trainsets. It should come as no surprise that the cabins on the WHOOSH trainsets strongly resembled their Chinese counterparts.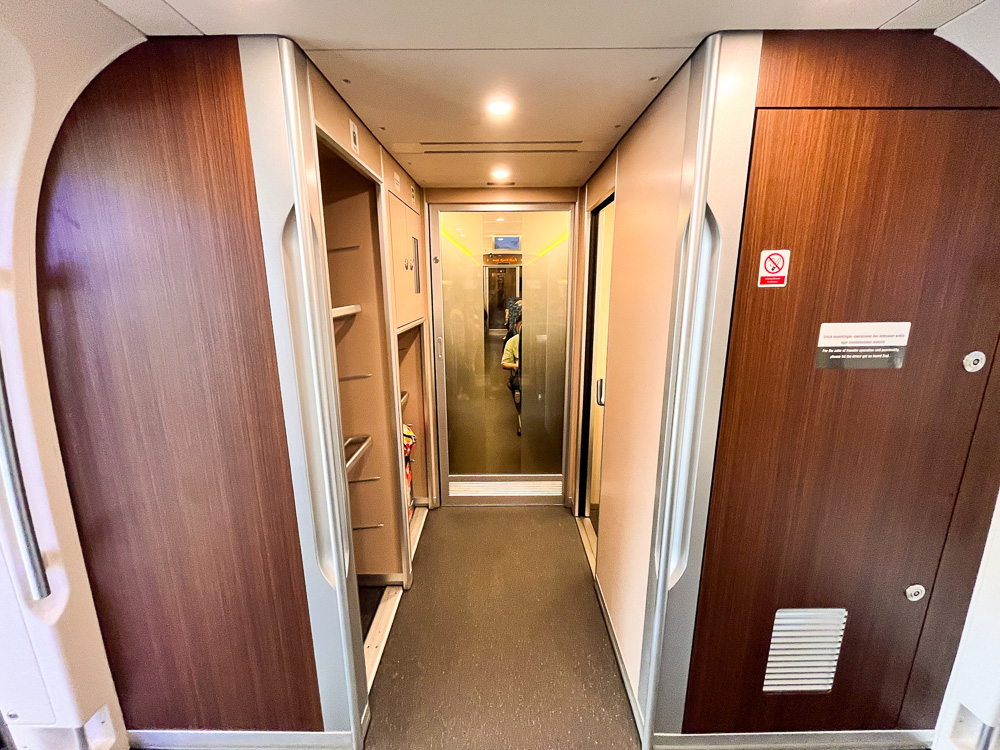 In fact, I also spotted some design elements shared with KTMB's newer CRRC built Class 93/2 trainsets on the ETS Platinum service between Kuala Lumpur and Butterworth (Penang). All in all, the cabin is quite well designed and put together.
Onboard Amenities – Toilets
Each car is equipped with 2 regular sized toilets. These are slightly bigger than your average airplane bathroom, and space saving is achieved by the use of sliding doors. The floor is layered with a rubbery mat to prevent slippage, and the sink is well sized for a train toilet. There is also a built in soap dispenser by the sink, and it'd be interesting to see how long it'll hold up in regular use.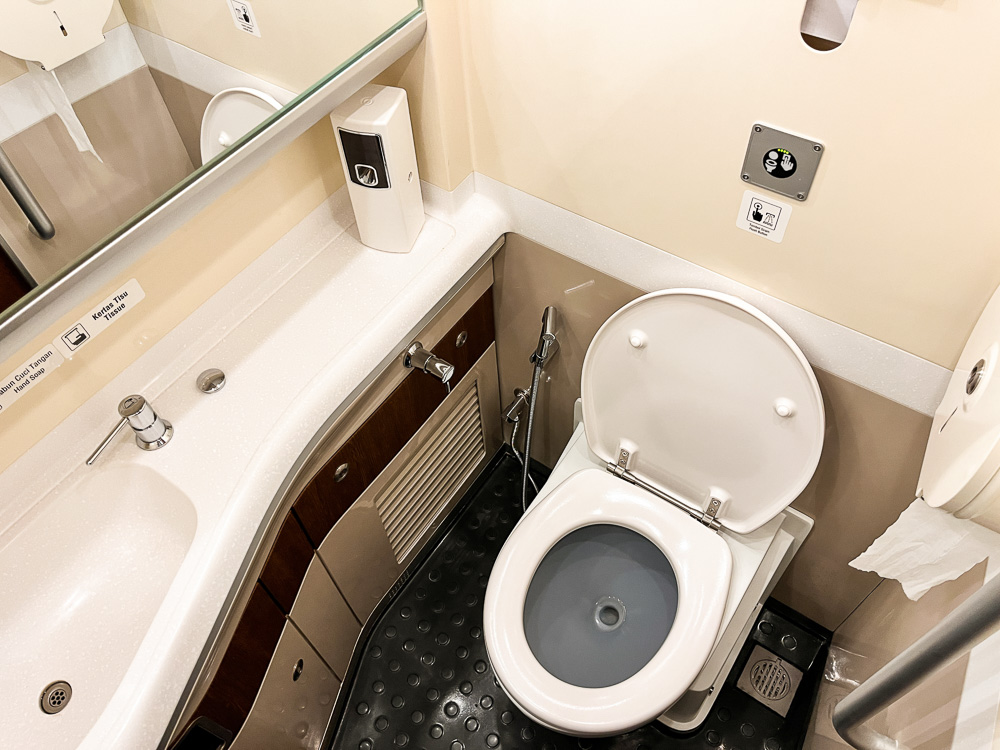 An accessible toilet is available at Car 4. This is equipped with a baby changing table, bright yellow handlebars, and a lot more space for passengers with mobility impairments.
I'm also happy to report that the door mechanisms for both toilets are easy to understand and use – the lock on both doors indicate their purpose very clearly, and for the accessible toilet's sliding door the latch is right next to the door control buttons. This makes it easier to make the logic leap to immediately lock the door after closing it, unlike the slightly more confusing version on KTMB's Class 93/2 trains where the lock and door control buttons are on opposite sides of each other.
Onboard Catering
A bistro space is available onboard but is currently not functioning. It is possible that KCIC may start sales after some time, but with the short journey times I really don't see much of a sales potential.
The ride quality
The WHOOSH ride quality is largely smooth. We started off with a slow and steady acceleration out of Halim, and then progressively increased our speed as the train sped out of the urban area. The train ultimately reached a top speed of 350km/h for a short stretch before gradually slowing for approach to Padalarang. I did notice some slight swaying at speeds, though I'm not sure if this is normal for high speed trains.
A ride on the WHOOSH won't give you quality views of the Javanese countriside, unfortunately, as the alignment prioritises best speeds through straight lines and tunneling.
Arrival at Padalarang HSR station
Just before our arrival into Padalarang, our train's brakes were suddenly applied and we coasted to a full stop on the tracks. Someone who seemed like a Chinese staff member then rushed to the train cab – I suppose this is one of KCIC's engineers from China seconded to support operations.
No explanation was given for the sudden stop, but we started moving some 5 minutes later. It seems whatever problem we had was resolved. We still managed an on time arrival, pulling into Padalarang at 10:52 am.
With the high speed journey from Halim to Padalarang completed, it was now time to connect to the Feeder train service to Bandung.
Final Thoughts
The WHOOSH functioned well enough on this trip in its 2nd week of commercial operations. But the main test would be to see how Indonesia maximises this line's potential as currently the line is essentially functioning as a high speed shuttle between Jakarta and Padalarang. Naturally, the fact that both Halim and Padalarang are not in their respective town centres are points in favour of the existing Argo Parahyangan service.
Also, while the infrastructure does seem solidly built I nevertheless have some concerns on the internal layout of the station buildings and with how they will cope with greater passenger numbers. This is especially if the current line is extended beyond Tegalluar and/or when passenger numbers inevitably increase.
I would also argue that the weakest link in the WHOOSH system is the Padalarang – Bandung Feeder service, which I'll explore in its own post. All in all though, it doesn't take away from the fact that this is a spectacular addition to Indonesia's (and Southeast Asia's) transport infrastructure. I certainly look forward to following its growth through the years to come.